From Past to Present: More than Eighty Years and Growing.
---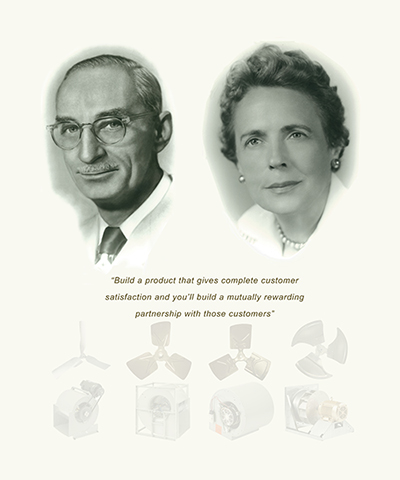 Lau's history began in 1931 when Edgar B. Lau began the Lau Blower Company in Dayton, Ohio building high efficiency, forward-curved blower wheels. In 1941, Lau was granted a patent for a blower conversion unit which converted gravity heated homes to forced air. This early invention launched Lau on its path towards efficiently moving air to improve comfort. As homes made the switch, Lau stood at the forefront of developing forced air solutions to improve comfort.
Lau is certified as a Women's Business Enterprise (WBE) through the Women's Business Enterprise National Council (WBENC), the nation's largest third party certifier of businesses owned and operated by women in the US.
Innovation: The Engine of Growth
---
Since its inception, one of the reasons for Lau's success is a core belief that business can only grow through innovation. With over 50 patents related to heating and ventilation comfort, Lau continues to innovate solutions to meet the world's changing energy and noise requirements while delivering the highest quality product as economically as possible. Lau innovated the first full production welded blower wheels with welded blades, the Preslok™ blower wheel center disc with unique design, the world's first external rotor motorized blower package and much more.
Our Expertise. Your Solution.
---
With decades of experience comes air moving knowledge, the foundation of what Lau brings to each application. Lau offers both standard and customer focused solutions, tailoring each product to a specific application to maximize performance. Responding with solutions to the world's demand for comfortable, quiet and energy efficient spaces, no other North American manufacturer offers a more diverse product line of air moving devices. Lau products guarantee that the right air moving product is fit to the application and not vice versa.